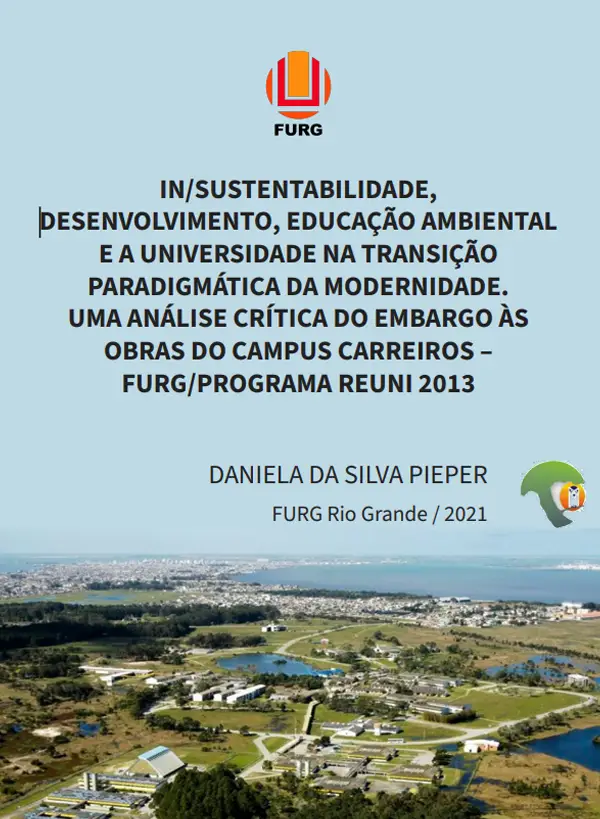 IN/SUSTENTABILIDADE, DESENVOLVIMENTO, EDUCAÇÃO AMBIENTAL E A UNIVERSIDADE NA TRANSIÇÃO PARADIGMÁTICA DA MODERNIDADE. UMA ANÁLISE CRÍTICA DO EMBARGO ÀS OBRAS DO CAMPUS CARREIROS – FURG/PROGRAMA REUNI 2013
Este texto apresenta as reflexões e a análise acerca da sustentabilidade, do desenvolvimento e do papel da universidade na sua relação sociedade/natureza, através de um estudo de caso, que tem por questão central a vocação, missão e visão institucional assumida pela universidade em pautar suas atividades de ensino, pesquisa e extensão voltadas ao Ecossistema Costeiro. A autora desenvolveu sua pesquisa e tese partindo de um processo administrativo ambiental movido pela Procuradoria da República no Município de Rio Grande, Rio Grande do Sul (PRM/RG/RS), através do Instituto Brasileiro do Meio Ambiente e dos Recursos Naturais Renováveis do Rio Grande do Sul (IBAMA/RS) e da Fundação Estadual de Proteção Ambiental, Rio Grande do Sul (FEPAM/RS), contra a Universidade Federal do Rio Grande, que gerou o embargo das obras de expansão do Campus Carreiros financiadas pelo Programa de Apoio aos Planos de Reestruturação das Universidades Federais (REUNI), em junho de 2013, pela ausência de licenciamento ambiental (Licença de Instalação – LI – e Licença de Operação – LO). O referencial teórico utilizado ampara-se nas visões de sustentabilidade Tecnocentrista, Ecocentrista e Humanista, segundo Guillermo Foladori e Naina Pierri; bem como as macrotendências político-pedagógicas de Educação Ambiental Conservacionista, Pragmática e Crítica, conforme Phillipe Layrargues e Gustavo Lima. Outrossim, apresenta o pensamento de Boaventura de Santos no âmbito da crise do paradigma da modernidade e sua proposta alternativa de uma Epistemologia do Sul, através da Ecologia dos Saberes, para pensar uma "outra universidade" no século XXI, construída com alicerces na valorização da pluralidade de saberes por meio das ações de seus próprios atores, considerando o contexto socioambiental e as experiências locais comunitárias.
This text presents reflections and analysis about sustainability, development and the role of the university in its society/nature relationship, through a case study, which has as its central question the vocation, mission and institutional vision assumed by the university in guiding its teaching, research and extension activities focused on the Coastal Ecosystem. The author developed her research and thesis based on an environmental administrative process filed by the Public Prosecutor's Office in the Municipality of Rio Grande, Rio Grande do Sul (PRM/RG/RS), through the Brazilian Institute of the Environment and Renewable Natural Resources of Rio Grande do Sul (IBAMA/RS) and the State Foundation for Environmental Protection, Rio Grande do Sul (FEPAM/RS), against the Federal University of Rio Grande, which generated an embargo on the expansion works of the Carreiros Campus financed by the Support Program to the Federal Universities Restructuring Plans (REUNI), in June 2013, due to the lack of environmental licensing (Installation License – LI – and Operation License – LO). The theoretical framework used is based on Technocentrist, Ecocentrist and Humanist visions of sustainability, according to Guillermo Foladori and Naina Pierri; as well as the political-pedagogical macro trends of Conservationist, Pragmatic and Critical Environmental Education, according to Phillipe Layrargues and Gustavo Lima. Furthermore, it presents the thoughts of Boaventura Santos within the context of the crisis in the paradigm of modernity and his alternative proposal for an Epistemology of the South, through the Ecology of Knowledge, to think about "another university" in the 21st century, built with foundations in the valorization of plurality of knowledge through the actions of its own actors, considering the socio-environmental context and local community experiences.
Alianza de Redes Iberoamericanas de
Universidades por la Sustentabilidad y el Ambiente
Unión de Universidades
de América Latina y el Caribe
Observatorio de la Sustentabilidad en la Educación Superior de América Latina y el Caribe (OSES-ALC)
© 2020 Todos los derechos reservados
Contacto: [email protected]
Diseño y Desarrollo
Universidad de Ciencias Aplicadas y Ambientales U.D.C.A - Dirección de Gestión TIC - Subproceso de Comunicaciones Web