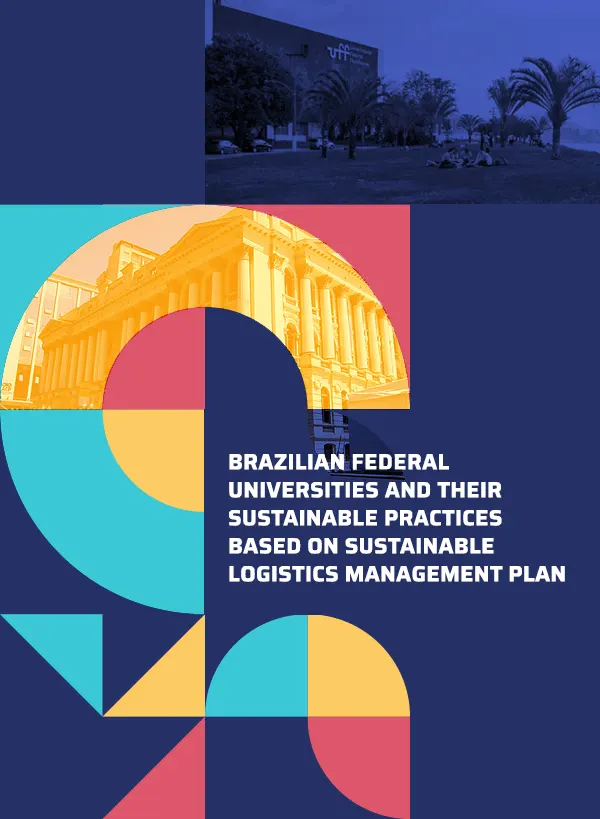 Brazilian federal universities and their sustainable practices based on sustainable logistics management plan
Este estudo tem por objetivo analisar a situação das Universidades Federais (UFs) quanto ao cumprimento do Plano de Gestão Logística Sustentável (PLS), Instrução Normativa (NI) 10/2012, cuja adoção é obrigatória para todos os órgãos e entidades da administração pública direta, autárquica e fundacional e empresas estatais dependentes, incluindo as UFs. O PLS é um instrumento destinado a estabelecer práticas de sustentabilidade na gestão de organizações públicas. Os dados foram coletados através de pesquisas nos sites das 68 UFs brasileiras que constituem a população estudada, juntamente com seus planos de ação (PAs) e relatórios de monitoramento. Os dados coletados revelaram que apenas 25% dos UFs tinham um PA atual e 15% publicaram um relatório entre os anos de 2020 ou 2021. Além disso, a questão mais comumente tratada nos PA foi a eletricidade, e a menos frequente compras e contratação sustentáveis. Pesquisas futuras devem ser realizadas com o Comitê Gestor do PLS das UFs, para compreender a razão da descontinuidade deste trabalho em algumas universidades e a razão da escolha de algumas temáticas. Alguns estudos abordaram a implementação do PLS pelas UFs, entretanto, cada um dos estudos identificados investigou apenas um dos sete temas obrigatórios estabelecidos na NI 10/2012, o que não permitiu uma avaliação completa da situação das UFs.
This study aims to analyze the situation of Federal Universities (FUs) regarding compliance with the Sustainable Logistics Management Plan (PLS) Normative Instruction (NI) 10/2012, the adoption of which is compulsory for all agencies and entities of direct, autarchic and foundational public administration and dependent state-owned enterprises, including FUs. PLS is an instrument intended to establish sustainability practices in the management of public organizations. The data were collected through searches on the websites of the 68 Brazilian FUs that constitute the study population, along with their plans of action (PAs) and monitoring reports. The collected data revealed that only 25% of the FUs had a current PA and 15% published a report for the years 2020 or 2021. Furthermore, the most commonly found mandatory issue to be addressed in PAs was electricity, and the least frequent was sustainable procurement and contracting. Future research should be conducted with the Management Committee of the PLS to understand the reason for the discontinuity of this work in some universities and the rationale behind the mandatory issues. Some studies address FUs' implementation of PLS, which promotes sustainable management systems. However, each of the identified studies investigated only one of the seven mandatory issues set down in NI 10/2012, which did not allow a complete assessment of the FUs' situation exclusively in respect of compliance with the PLS.
Observatorio de la Sustentabilidad en la Educación Superior de América Latina y el Caribe (OSES-ALC)
© 2020 Todos los derechos reservados
Contacto: [email protected]
Diseño y Desarrollo
Universidad de Ciencias Aplicadas y Ambientales U.D.C.A - Dirección de Gestión TIC - Subproceso de Comunicaciones Web